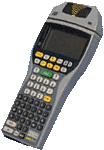 ACS has developed it's own hand held meter reading software, which works with the Psion Workabout hand held units. This system will allow you to key readings directly into the hand held unit and then download these readings back to the PC for calculations. The cost of this software is not included in the base price of the Utility Billing system, but the cost is very reasonable. See Pricing for more details.
Highlights
Displays Customer Name, Meter Address, Account Number, Reading, Previous Usage and Footnote on Hand Held screen
Can download complete or partial route to Hand Held immediately before reading (thus allows all customer information to be current)
Allows user to skip back and forth, if necessary, as readings are being entered
Contains search options on Customer Name, Meter Address, and Account Number to allow user to find specific accounts
Contains option to search for any skipped records
Allows for up to three different meters (gas, water, and electric) to be read at same time
Warns user of unusual usage or negative usage on readings
Allows for meter rolls
Allows user to enter Footnote information that will be displayed in the future
Shows total meters read and skipped
Easily attaches to PC docking station
Allows readings to be stored in Holding Files and calculated at later date
Allows operator to get listings and make changes before actual bills are calculated
In addition to offering our own hand held software, the ACS Utility Billing System has been written to interface with many other popular hand held devices. See Pricing for the cost of activating these features.
Related
Utility Billing
Back
Home